Individual and Couple Counselling
Intimate Partner & Family Violence Programs
Personal Growth & Parenting Programs
Corporate Wellness Training
Professional Training Workshops
Clinical Supervision
Individual and Couple Counselling
Empathic Life Solutions offers counselling on a variety of life issues. Counselling specialties include: anxiety, depression, relationship issues, work/life balance, intimate partner violence, trauma, self-esteem issues, and anger management. Contact us now.

Intimate Partner & Family Violence Programs
Empathic Life Solutions offers group programs for those dealing with intimate partner violence (IPV). Our Options Group programs are available for women who have experienced abuse in their relationships, and for men who have used abusive behaviours. Individual counselling is available for men who have experienced IPV and women who have used abusive behaviours.
We also offer the Caring Dads program for men who have used angry, controlling, abusive or neglectful behaviour toward their children or children's mothers.
Personal Growth & Parenting Programs
We are pleased to offer personal growth and parenting workshops on a variety of topics. If you are interested in a topic that is not mentioned, let us know as we may be able to develop a program to meet your needs.
Corporate Wellness Training
Empathic Life Solutions provides lunch and learns, 1/2 day or full day workshops to businesses on topics such as work/life balance, managing change, creating a respectful workplace, managing stress, and dealing with conflict. Other topics are available, contact us to discuss your training needs.

Professional Training Workshops
We offer professional development workshops for mental health professionals on a variety of topics, such as treating anxiety, narrative therapy, group facilitation training, intimate partner violence, and others. Contact us to discuss your training needs.

Clinical Supervision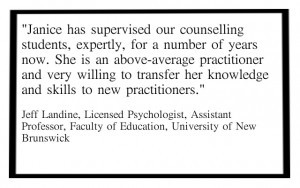 Clinical supervision services are available to 
new counsellors and counselling interns.
For more information about any of our programs or services, contact us today.